Functional Chinese Swords
Functional Chinese Swords
High Carbon Steel Tempered and Forged Swords
We offer several hand forged Chinese swords for Chinese martial arts and collectors alike. Our functional Chinese swords feature hand forged high carbon steel tempered blades for tai chi, kung fu and various Chinese martial arts. We offer pieces from Cold Steel & Hanwei under direction of Paul Chen who has set the benchmark for all blade smiths on what can be achieved in Chinese and Japanese weaponry.
---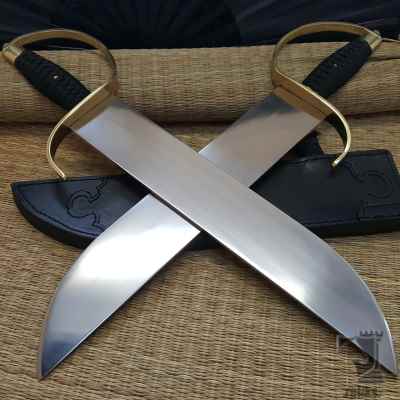 Butterfly Swords
By: Cold Steel
Prior to World War II, the Butterfly Sword was virtually unknown outside of southern China. This changed at the close of the 1940's, when the Communists took control of mainland China, forcing many Kung Fu masters to flee the oppressive regime and establish new schools elsewhere.....
IN STOCK

- Price: $327.99

By: Cold Steel
There are few swords in the world that are more intimidating or more effective than the two handed Chinese War Sword.
Stock:
IN STOCK
Price: $378.99

By: Paul Chen - Hanwei
In response to requests from Wushu practitioners for swords with ultra-flexible blades, we have developed the Flexible Long Sword.
Stock:
IN STOCK
Price: $130.99

By: Paul Chen - Hanwei
Long the traditional weapon of China's peasant armies, the Dadao, or big sword, was used with deadly effect as late as the 1930's in the Sin...
Stock:
IN STOCK
Price: $158.99

By: Paul Chen - Hanwei
The Practical Tai-Chi swords from Hanwei have been developed in response to many requests for a quality Tai-Chi sword for everyday practice.
Stock:
*
IN STOCK
Price: $149.99

The Chinese Broadsword, or Dao, is a weapon which historically saw use most often as the hand weapon of military foot soldiers for slashing ...
Stock:
Out Of Stock
Price: $129.99

By: Paul Chen - Hanwei
The Ox-Tail Dao or Kung Fu Sword is undoubtedly one of the best weapon-grade swords of its type commercially available.
Stock:
Out Of Stock
Price: $217.99

What are Functional Chinese Swords?
Functional Chinese swords are properly produced swords for the Chinese martial arts like Tai chi and Kung fu. These pieces are hand forged by top sword smiths with the practitioner in mind. Unlike display pieces these swords will generally have properly tempered and treated high carbon steel blades. These blades are built to withstand the rigorous training of the martial artist. Along with expert forging the design of these blades is made accurate to the originals from the tang size to blade fastening methods. If you are training in any of the Chinese sword martial arts, the swords found in this section are up to the task.

This site is based in London,Ontario Canada

© 2000-2019 RELIKS Inc.
Page # 6610
---