Functional European Swords
Functional European Swords
(Battle Ready) Hand Forged Carbon Steel Swords
We offer a large selection of historically accurate functional battle ready swords from the top forges. Windlass Steelcrafts® are producing authentic, hand forged in a semi-production environment by accomplished blade smiths. The result of this labour of love is unmatched even by today's most modern equipment. We are also proud to offer hand made functional swords by Darksword Armoury. Most of Darksword Armouries swords are produced right here in Canada.
---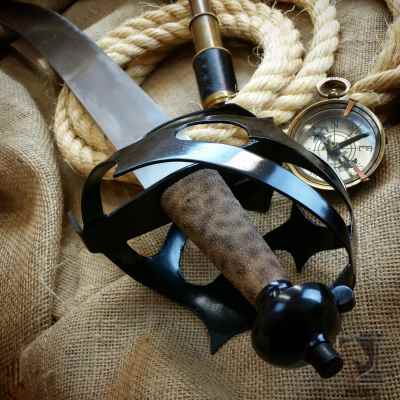 The Corsair Pirate Sword
The pirate cutlass features a wide curved blade made for chopping during tasks on board or in a raiding party. All of the steel fittings have been expertly blackened, giving them a dark and villainous look. The ambidextrous design of the lavishly cut steel guard allows this swor....
IN STOCK

- Price: $324.99

By: Paul Chen - Hanwei
The Practical Viking Sword is based on authentically styled swords in our collection but is tailored to meet the needs of re-enactment and s...
Stock:
IN STOCK
Price: $179.99

By: Kingston Arms
We could say that this sword is inspired by a Cutlass housed in a European Museum, dated to late 16th Century and representative of the earl...
Stock:
IN STOCK
Price: $430.99

By: Windlass Steelcrafts
This medieval Acre Crusader Broadsword from Windlass Steelcrafts Battlecry collection is a formidable weapon of proven worth.
Stock:
IN STOCK
Price: $274.99

By: Darksword Armory
The Templars formed at the end of the First Crusade as a group of knights who took monastic vows.
Stock:
*
IN STOCK
Price: $514.99

By: Paul Chen - Hanwei
An important addition to our European practical line is the Practical Norman sword, based on a classic 11th century pattern popular during t...
Stock:
IN STOCK
Price: $184.99

By: Windlass Steelcrafts
There's a change in the winds says I… With this high carbon steel, fully tempered, full tang, battle worthy pirate hanger.
Stock:
IN STOCK
Price: $189.99

By: Paul Chen - Hanwei
Mainstay of the Highland warriors of the late 15th and 16th centuries, the Claymore had a uniquely styled hilt that sets it apart from other...
Stock:
IN STOCK
Price: $321.99

By: Windlass Steelcrafts
An old legend has it that a Nordic smith named Ulfberht developed the first all steel blade.
Stock:
IN STOCK
Price: $244.99

By: Paul Chen - Hanwei
The Practical Hand and a Half Sword is based on authentically styled swords in our collection but is tailored to meet the needs of re-enactm...
Stock:
IN STOCK
Price: $219.99

By: Kingston Arms
The Tourney Series Medieval Sparring Sword from Kingston Arms will set a new standard in this price point of re-enactment weaponry.
Stock:
IN STOCK
Price: $219.99

By: Windlass Steelcrafts
In 871 AD, the young Prince Alfred, later known as Alfred the Great, valiantly lead the army of King Ethelred of Wessex in a glorious victor...
Stock:
IN STOCK
Price: $324.95

By: Kingston Arms
The first in a series of swords designed by Gus Trim and produced by Kingston Arms to his performance sword specs, this is a beauty of a sin...
Stock:
IN STOCK
Price: $403.99

Related Categories
Roman Gladius
Windlass- BattleCry
Cutlass
Hand and a Half Sword
Two Handed Long Swords
Single Hand European Swords
Basket Hilted
What is a Functional European Sword (Battle Ready Sword)?
A functional European sword is a sword that has been produced, with proper sword production practices for the purpose of sword cutting, medieval re-enactment or rehearsed stage sword choreography. Functional European swords are most commonly recognized as "The Medieval" sword even though this class of sword is not restricted to the medieval or dark ages. The European sword designs are found throughout history including British pattern swords which were carried by cavalry officers in the American civil war. "Battle ready swords" is a term that has been adopted throughout sword selling websites to describe the Medieval or European functional sword. You will find the term "battle ready" used throughout our website, however we prefer to use "Functional sword".
A functional sword is forged just like the originals, with the assistance of modern forging equipment the process remains the same. The sword blade is hammered and forged from a billet of high carbon steel, finished and shaped by hand. One of the most important steps in the swords production is proper blade tempering ensuring the right amount of flex so that the sword blade and sword fittings can withstand the high impact of repeated sword cutting. A functional sword will have a traditional tang that is an extension of the blade though the hilt and pommel. The blade will either be pinned (peened) or have a pommel button, which is a special nut that fastens to the sword tang. Unlike a simple decorative sword which welds a thin rod to the tang (rat-tail), the tang of a functional European sword is constructed from the same piece of steel during forging to maintain the swords strength.
How easy is it to use a Functional Medieval Sword?
Most of our functional medieval or European swords come un-sharpened for the sword collector and medieval re-enactor. There are several different blade options available for cutting or stage depending on your needs. Cutting or using a sword can be done quite easily as long as you keep safety in mind. Swords are very long blades for the purpose of cutting and should be treated with respect. The basic use of a sword is a lot of fun but don't expect to become a sword master over night. Consider a medieval knight would train from 6-7 years old for several years to perfect the art of the sword. There are several sword resources available online if you would like to persue Western martial arts and perfect your sword tecnique. Medieval squires would often train with wasters (practice swords) before ever touching a live blade. Whether you enjoy being an occasional backyard cutter, practice the sword for film or theatre, enjoy medieval re-enactment or want to seriously pursue sword martial arts, there is nothing like the feeling of holding a good quality functional sword.
Related Articles
The Roman Rudis - Sword of Freedom
The Kopis - The True Sword of Persia
The Falchion, a Sword for Commoners and Kings
The Cutlass - The Sword of the Seas
Once Upon A Medieval Night, The Bastard (Sword) Was Born
Learn About The Medieval Knight's Swords
Have Your European Sword Sharpened For Sword Cutting Drills
The Gladius - The Sword of the Roman Army

This site is based in London,Ontario Canada

© 2000-2020 RELIKS Inc.
Page # 6551
---