840 Dulaney Dr. London, ON
Order Line: 1-888-473-5457
Questions: sales@reliks.com
Functional European Swords
Functional European Swords
(Battle Ready) Hand Forged Carbon Steel Swords
We offer a large selection of historically accurate functional battle ready swords from the top forges. Windlass Steelcrafts® are producing authentic, hand forged in a semi-production environment by accomplished blade smiths. The result of this labour of love is unmatched even by today's most modern equipment. We are also proud to offer hand made functional swords by Darksword Armoury. Most of Darksword Armouries swords are produced right here in Canada.
---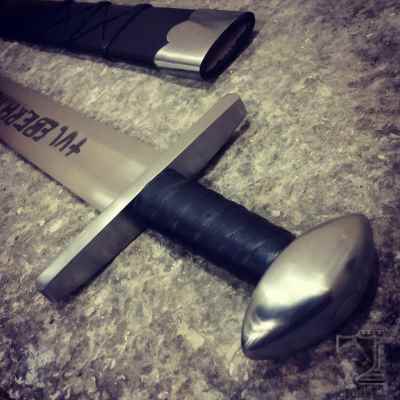 Ulfberht Sword
By: Windlass Steelcrafts
An old legend has it that a Nordic smith named Ulfberht developed the first all steel blade. This crucial development achieved near-mythical status among warriors, making this one of the most important swords in the study of medieval weapons. Several of these blades from slightly....
IN STOCK

- $209.99
By: Cold Steel
Derived from the sword used by Celtic tribes of ancient Iberia (Spain) and adopted by the Roman Legions, the Gladius, with its long, narrow ...
Stock:
IN STOCK
Price (USD):
$49.99
By: Cold Steel
Inspired by our 1917 Cutlass, our Cutlass Machete features a stiff, cut and thrust blade that's just as useful for repelling boarders as it ...
Stock:
IN STOCK
Price (USD):
$49.99
By: Cold Steel
The Cold Steel Kopis Machete is modeled closely on an ancient sword design that was held in high esteem by the Greeks, Romans, and Spaniards...
Stock:
IN STOCK
Price (USD):
$47.99
By: Cold Steel
The era of the long sword spanned almost three centuries from some time during the 1300's to middle of the 17th century.
Stock:
IN STOCK
Price (USD):
$354.99
By: Windlass Steelcrafts
The crashing of waves, the roar of cannons, the shout of sea roques through the foreboding mist - this new functional cutlass can't help but...
Stock:
IN STOCK
Price (USD):
$214.99
By: Windlass Steelcrafts
The Battle of Sticklestad was the final battle of Saint Olaf.
Stock:
IN STOCK
Price (USD):
$239.99
By: Windlass Steelcrafts
We've been asked for years for a good set of historically researched swords to perform with on stage.
Stock:
IN STOCK
Price (USD):
$174.99
By: Darksword Armory
The history of Denmark is filled with tumultuous periods of war and strife, conflicts driven by the same political and religious factors tha...
Stock:
IN STOCK
Price (USD):
$424.99
By: Paul Chen - Hanwei
The Blunt Trainer longsword features nearly identical handling of its sharp companion, but with thick edges (2mm) and a rounded tip for safe...
Stock:
IN STOCK
Price (USD):
$268.99
By: Windlass Steelcrafts
Standing in Eastern Europe, Hungary was often warring with both the west and east.
Stock:
IN STOCK
Price (USD):
$169.99
By: Paul Chen - Hanwei
Replicating a surviving museum piece the Lowlander by Cas/Hanwei is a beautiful example of the 16th century lowlands claymore.
Stock:
IN STOCK
Price (USD):
$348.99
By: Paul Chen - Hanwei
Wielded with untamed ferocity on many a Gaelic battlefield, the massive Antiqued Lowlander sword vividly illustrates the might of the Scots ...
Stock:
IN STOCK
Price (USD):
$348.99
Related Categories
What is a Functional European Sword (Battle Ready Sword)?
A functional European sword is a sword that has been produced, with proper sword production practices for the purpose of sword cutting, medieval re-enactment or rehearsed stage sword choreography. Functional European swords are most commonly recognized as "The Medieval" sword even though this class of sword is not restricted to the medieval or dark ages. The European sword designs are found throughout history including British pattern swords which were carried by cavalry officers in the American civil war. "Battle ready swords" is a term that has been adopted throughout sword selling websites to describe the Medieval or European functional sword. You will find the term "battle ready" used throughout our website, however we prefer to use "Functional sword".
A functional sword is forged just like the originals, with the assistance of modern forging equipment the process remains the same. The sword blade is hammered and forged from a billet of high carbon steel, finished and shaped by hand. One of the most important steps in the swords production is proper blade tempering ensuring the right amount of flex so that the sword blade and sword fittings can withstand the high impact of repeated sword cutting. A functional sword will have a traditional tang that is an extension of the blade though the hilt and pommel. The blade will either be pinned (peened) or have a pommel button, which is a special nut that fastens to the sword tang. Unlike a simple decorative sword which welds a thin rod to the tang (rat-tail), the tang of a functional European sword is constructed from the same piece of steel during forging to maintain the swords strength.
How easy is it to use a Functional Medieval Sword?
Most of our functional medieval or European swords come un-sharpened for the sword collector and medieval re-enactor. There are several different blade options available for cutting or stage depending on your needs. Cutting or using a sword can be done quite easily as long as you keep safety in mind. Swords are very long blades for the purpose of cutting and should be treated with respect. The basic use of a sword is a lot of fun but don't expect to become a sword master over night. Consider a medieval knight would train from 6-7 years old for several years to perfect the art of the sword. There are several sword resources available online if you would like to persue Western martial arts and perfect your sword tecnique. Medieval squires would often train with wasters (practice swords) before ever touching a live blade. Whether you enjoy being an occasional backyard cutter, practice the sword for film or theatre, enjoy medieval re-enactment or want to seriously pursue sword martial arts, there is nothing like the feeling of holding a good quality functional sword.
---

This site is based in London,Ontario Canada

© 2000-2017 RELIKS Inc.
---